I Love Lucy Fondant "Drawing" Cake
by Trinity Wood
(Russellville, AR )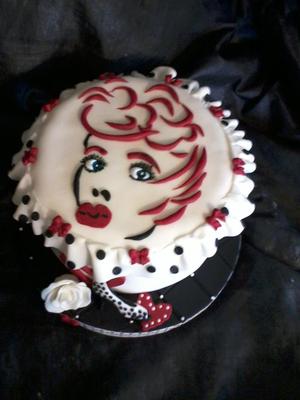 I Love Lucy Fondant Design
This was a 6 inch high, 8 inch round cake split into 3 layers and filled with vanilla bean buttercream. I covered it in fondant and made fondant ruffles, which I then covered in black polka dots to match my theme.


Lucy was "drawn" by using a dot pattern from a picture I pulled off the internet. I laid the picture on the cake, poked holes through it to the fondant lightly, and then laid my hand rolled fondant pieces to create the design.
The entire picture is fondant, even the separation on her lips.
I made a small gumpaste shoe to match, and a heart and rose.
The board is covered in quilted black fondant with a stitch design and white pearls to pull it together, and finished in a black and white polka dot ribbon. All of my designs are all-edible.
The second picture is a close up of detail of the shoe and hearts, ruffle, etc.
More of my cakes can be seen at www.facebook.com/sweetsensationscakes
Thanks for looking!
Must See Pages for this Month!
Free Newsletter
Sign up for our free newsletter "The Icing on the Cake"