Teddy Bear Christmas Cake
by Lori Arpey
(Amsterdam NY)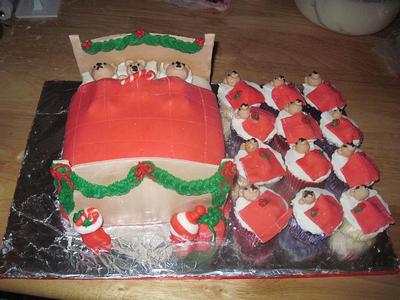 This cake actually was a lot easier than it looks.


I made it with a 2 layer 9 inch square cake. I covered it with white fondant, adding a ruffle for dust ruffle around the edge. About a week to 2 weeks prior, I made the head board and foot board from a 50/50 gumpaste and fondant mix, cut fairly thick for stability. I also molded the bears ( Mama, Papa, and Baby)
This cake also had matching cupcakes so I made enough for them too. For the body I just made the basic shapes because they would be covered with blankets. Place them with white fondant pillows on bed.
I then rolled out a piece or red fondant and used my quilting tool to make the blanket and covered the cake with it (tucking in the bears). Then I added a white strip over the top of the blanket to look like a sheet folded over.
After the blanket and bears were in place, I attached the headboard and foot board to the cake. Right before your eyes the cake now looks like a bed. Decorate the bed any way you'd like at this point.
I added garlands and gifts and a stocking at the foot board.
The cupcakes were just as easy. I added a fondant pillow and a smaller molded bear to each cupcake then a smaller fondant blanket to each one.
This cake was a HUGE hit and no one realized how easy it really was!
Must See Pages for this Month!
Free Newsletter
Sign up for our free newsletter "The Icing on the Cake"