How to Make Easter Cakes Like This Easter Egg Cake
Easy instructions for making Easter cakes:
Bake the cake in a You are going to round off one end of the football shape so that you have an egg shape, which is the cake pan that was used to make this cake.
With an icing filled bag and round tip, size #5, draw lines across the egg for your decorating sections.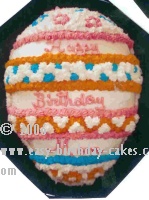 Use the star tip, size #18 for your decorating sections and round tip, size #5 if you wish to write a message on the egg.
You can use the picture as a guide if you want or you can use any colors that you would like. It will be easier if you outline your stripes in the color of your choice, then put your design in (whether it is flowers or zigzags or dots etc.) and fill in the rest of the stripe last. This is where you can be creative.
Share Your Easter Cakes
If you have made any Easter cakes that you would like to share, please submit your cake here and let us know how you made it! We would love to feature your cake on our site. Please make sure to include a photo of your cake and a description of how you made it, so that we can all share ideas and learn from each other!
See Easter Cakes That Were Submitted By Others To This Site!
Click below to see other Easter cakes from other visitors to this page...

Easter Bunny Cake






This Easter bunny cake is a Red Velvet cake with cream cheese frosting. The Bunny and the flowers are all made from fondant. This is a three layer cake …
Egg Cake 2 Not rated yet
For this egg cake, I used one cake mix that was egg free. Instead of following directions on the box I added 12 oz. of clear soda pop. I used a white …
Egg cake Not rated yet
To make this egg cake, I used one cake mix, and it's egg free. Instead of following directions on the box I added 12 oz. of clear soda pop. I used a white …
Return from

Easter Cakes to Cake Designs