A Gift from Heaven Angel Cake
by Alda Cota
(Hamilton, Ontario Canada)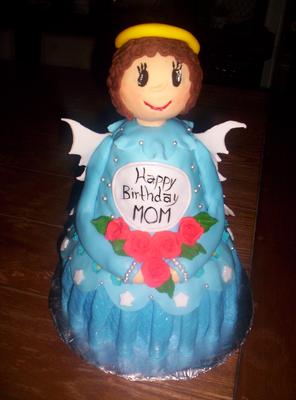 Angel Cake
To prepare the angel cake:


I used butter cream frosting that I had prepared well in advance. You can make the frosting a few days before, just make sure to whip it before you us it.
I made my own fondant. I prefer to make my own Marshmallow fondant; I find that it tastes a lot better
. The Fondant may be made up to 2 days ahead.
For the cake I used a basic pound cake recipe. You will need to bake 3x 9 round cakes and 1 9" in a metal bowl and 1 in a 6 inch round metal bowl. You must be careful and keep a close eye on the bowls while they are cooking and adjust the temperatures as they will cook differently then the 9" rounds.
Once cakes are cooled I trimmed them and cut the rounds in half and frosted them, I also cut and trimmed the bowl shaped ones. I stacked the and chilled them overnight. I trimmed the cake and shaped it into a coned shaped bodice, dirty iced it (to coat with a thin layer of buttercream icing. Then refrigerate again.
I then portioned out the fondant and used food coloring. I find that the paste is better then the liquid. I then made the roses, leaves,wings (used cookie cutter for patterns on the wings) also there is a big red bow in the back, I set them aside until the dress is made.
The dress is made of fondant squares with patterns and folded into place. Silver edible balls are used to give it a bit of sparkle. Once the dress is attached then I added the arms and hands, the name plaque and the leaves flower.
At this point I attached the wings and the big bow in to back. I attached them using a bit of water that I brushed onto the places were I wanted to attach the items.
I made the head by putting a skewer threw a styrofoam ball and coating it with skin colored fondant, hand painted the face and added brown curls to the hair. I also added a halo.
Then I pushed the skewer threw the top of the cake, being careful not to damage anything.
Must See Pages for this Month!
Free Newsletter
Sign up for our free newsletter "The Icing on the Cake"