Picture Birthday Cake Decorations
Easy directions for picture birthday cake decorations:
Bake a round two layer cake the size that you need. Ice the cake with white buttercream icing using a cake spatula and making sure the surface is nice and smooth.
With your white icing and round tip, size #5, do lace work on the sides of the cake.
Change your tip to a star tip, size #18 and do a reverse shell border at the top edge of the cake. Using the same tip, make a regular shell border at the bottom edge of the sides of the cake.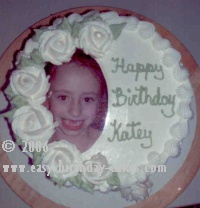 Related Cakes
I took a picture of my granddaughter, enlarged it and cut it to an oval shape. I then laminated it on both sides with the self stick laminating sheets. Place your picture on the cake.
Make white roses using rose tip, size #125 and place them around half of the picture. I also placed one rose along the bottom edge of the cake in the front.
Make a light green icing and use leaf tip, size #352 to make leaves around the outside edges of the roses.
Change the tip to a round tip, size #5 and write the birthday message.
Free Newsletter
Sign up for our free newsletter "The Icing on the Cake"