Camping Scene Birthday Cake
by Karen Bradley
(Watlington, Oxfordshire)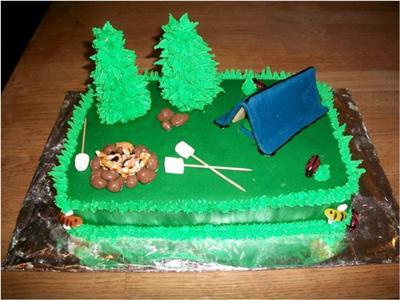 Camping Scene Birthday Cake
This is a camping scene, chocolate sponge cake. I had great fun making this cake as there were so many different things to make to go onto the cake.


To start with I covered the whole cake in green fondant icing. Then I made the pine trees which were made using ice cream cones. These were covered with royal icing piped onto them using a star nozzle and then left to dry.
The tent was made out of 2 x ice cream wafers which I covered in blue fondant icing then put onto the cake in a V shape, I also made a little pillow and sleeping bag with fondant icing.
To make the camp fire I used chocolate covered honeycomb chocys for the rocks and bits of broken pretzels for the twigs. I used mini marshmallows and stuck them onto tooth picks and placed them around the camp fire.
All the bugs that you see around the cake are jelly beans which I then piped icing onto them to make into bees and lady birds.
To complete the cake I piped icing around the edges and in various other places on the cake to make it look like grass, using the star tip again.
This is a great looking cake, check out my website for more fantastic ideas for your special occasion.
wwww.creativecakesbykaz.com
Join in and write your own page! It's easy to do. How? Simply click here to return to Kids Birthday Cakes .
Must See Pages for this Month!
Free Newsletter
Sign up for our free newsletter "The Icing on the Cake"