Easy to Make Christening Cakes
Christening Cakes – Easy instructions:
Bake a sheet cake the size that you will need. Ice the cake in white butter cream icing.
On the sides of the cake, do the lace work with white icing and round tip, size #5. The lace work is done by making squiggly lines on the surface you are covering.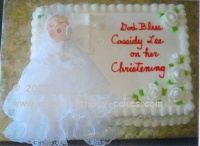 Related Cakes
With star tip, size #18 and white icing do the shell border on the top and bottom edges of the sides.
Make three roses with white icing and place them in the right bottom corner of the rectangle. Make leaves around the roses with green icing and leaf tip, size #352.
Place the doll on the left hand side of the cake. This doll was handmade with the same lace as the baby's christening dress.


Free Newsletter
Sign up for our free newsletter "The Icing on the Cake"