Church Presentation Cake
by Mildred Delgado
(Milledgeville, Georgia)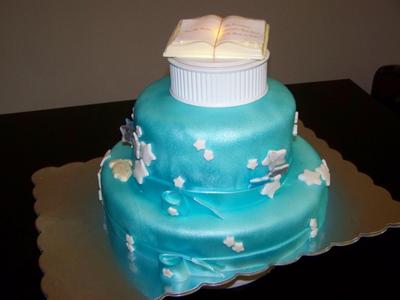 For the bottom part of this cake, I used a 12 inches by two round yellow cake. I soaked it with almond syrup. I inserted 6 dowels for support. The upper part consist in 2 cakes(one tier) 9 inches by 2 chocolate cakes.


I split the two cakes in halves and filled them in using chocolate fudge and caramel filing. I cover them with white butter cream icing and then with white fondant.
I air brushed it with sky-blue sheen color. I cut out different size stars with a cookie cutter and attached them to the cake.
I made some other stars to give the up in air look and put them on a floral wire and placed them on the cake as well. These stars I colored them silver dust, blue dust and pearl dust as well.
I cut out a long strip of fondant and used it as a ribbon for the bottom of the layers. I made a pair of praying hands out of modeling white chocolate and placed them on the cake.
I made the modeling chocolate by myself. I covered them using pearl dust.
I made the bible out of modeling white chocolate giving it a bible look. I drew a gold line along the bible to give a book mark look. I printed on an icing sheet a "page" with the baby's information the name, event day, and parents name, etc.
I used a rotating cake base which lighted up and placed the bible on top of it.
Must See Pages for this Month!
Free Newsletter
Sign up for our free newsletter "The Icing on the Cake"