Coach Handbag Cake
by Mildred Delgado
(Milledgeville, GA)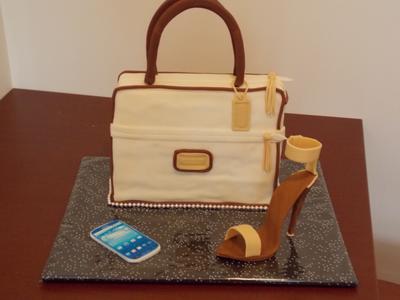 This cake is for my daughter's 21st birthday. This is double chocolate cake. I used two 9 X 13 X 3 cakes pans. This gave me three tiers. The lower tier was 4.5 inches, the second tier was 3.5inches, and the upper tier was 2.5 inches.


I used support dowels on the bottom tier. One center dowel across the entire cake. After aligned them, I trimmed it and gave it the sort of triangular handbag shape I was looking for.
I covered with butter cream icing and then in fondant. I attached the front and upper "zippers". The front zipper, I had to use a ruler so it attached on straight. I airbrushed painted with shiny white pearl paint. Let it dry for about two hours.
I rolled brown fondant for the trim of the bag and I carefully placed it around it. I did it while the paint was still wet. It glued very easy.
I worked on the handles. I made a brown fondant sausage and used 6 floral wires twisted up and taped up. I made the handles and let them dry. I used a 9X 13 inches cake pan and I left them there to dry and get the shape. It worked perfectly.
I made the cell phone ahead of time using a piece of fondant shaped and sized of her cell phone. Recently, she bought a new i-phone and I recreated the same apps that she has on her cell phone on sugar sheet print and attached to a piece of fondant I previously did.
I just added a message on it that say Happy 21st Birthday. You cannot read it on the picture.
I made the sandal ahead of time, is made out of gum paste. I made the heel and then the sole separately, let them dry for 2 weeks. Then I cut the front stripe part and placed it, using plastic paper for support.
I also made the back part of it and I let it dry. Then I attached the upper back stripe part of the sandal. I used a ruler across 2 cans of veggies (sorry I could not find anything else to work) to hold it in place until it dry and held on.
From the fondant left over of the sandal, I used some to make the Coach logos and the tassels and attached them. I used silver dragees for sparkly effect.
After we delivered the cake, (had to travel for 2 hours), then I put the handles in place. She loved it; since I gave her a real Coach handbag as well, she was very pleased to receive 2 in one day...I really enjoyed doing this cake
Must See Pages for this Month!
Free Newsletter
Sign up for our free newsletter "The Icing on the Cake"