Ektelon Racquetball Cake
by Mildred Delgado
(Milledgeville, GA)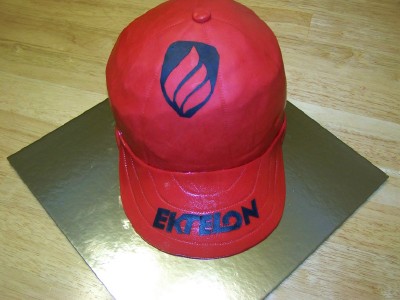 I made this cake for my husband who is an excellent racquetball player. For this cake, I used a 12 X 3 circular cake. It is a Spanish Butter Cake recipe which holds the shape very well.


I cut two 6 inches circles and had to be creative and used was left for the small part on top. I carved them into a baseball hat.
Afterwards, I soaked the cake on a rum flavor glaze for about 4 hours; then I let drain the excess of glaze. I used a 6 inches cake board on every bottom of cakes. I stacked them using buttercream between layers to affix the cakes.
I cover it with buttercream and then I used red colored fondant to cover the cake. I used the zipper impress to mark the stitches on the top and front part of the hat. For the racquetball logos, I printed them on a sheet of paper, used an exacto knife to cut the words out of a black icing sheet, and placed them as appropriate on the cake.
I made the front of the hat in fondant, put the cutout logo on it, let it dry, and affixed it to the cake with water.
For the back, I shape fondant and cut a strip of the black icing sheet and affixed another logo on it.
Must See Pages for this Month!
Free Newsletter
Sign up for our free newsletter "The Icing on the Cake"