Folks Logo Cake
by Farah Khan
(Abqaiq, Eastern Province, Saudi Arabia)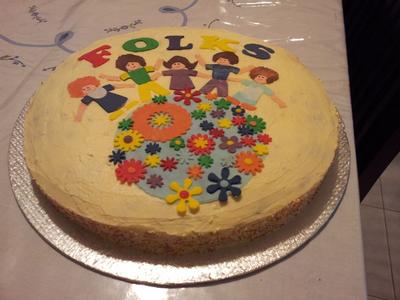 I am not a professional cake decorator but it is my hobby and I started it only about 2 years back. The Folks logo cake I am submitting for the contest was made for a day care center on a friend's request and she asked me to use their logo on the cake. She wanted a round cake. The center is known as FOLKS. I have uploaded the picture of the logo. I tried to make as close to it as I could.


I was asked to make half vanilla and half chocolate cake so I made a marble cake. My basic cake recipe was:
16 oz. plain flour
16 oz. unsalted butter
16 oz. sugar
8 eggs
8 level teaspoon baking powder
4 tablespoon sour cream
2 teaspoons vanilla essence
3 tablespoons dark cocoa powder
1 teaspoon instant coffee
The diameter of the pan I used was 15". First I crumb coated and then I covered it with lemon colored buttercream icing; which I made with unsalted butter, icing sugar, a little meringue powder, vanilla and a few drops almond essence. I made the decorations with flower paste, using icing sugar, gelatine, liquid glucose, white vegetable shortening, egg white and gum tragacanth. In the end I stuck colored hundreds and thousands on the sides.
Must See Pages for this Month!
Free Newsletter
Sign up for our free newsletter "The Icing on the Cake"