Hummingbird Cake
by Lori Martin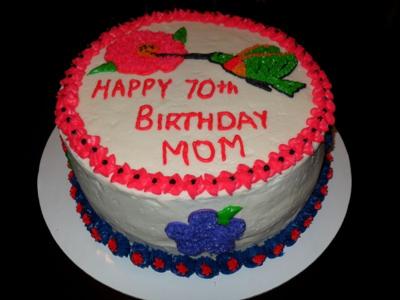 Humming Bird Cake
I made this hummingbird cake for my Mom for her birthday, it is a banana pineapple cake. This recipe makes a delicious and moist cake. It is a nine inch round two layer cake with cream cheese filling. I iced the cake with white buttercream icing.


The hummingbird and flower I traced with piping gel and transferred it onto the cake, then with a #3 tip and black icing I outlined the hummingbird and filled in the beak and feet, also did the writing on the cake.
I colored all of the different colors with Wilton coloring. I used a #16 tip to fill the bird in with the green, red and orange. I outlined the flower with the #3 tip and then filled it in with the #16, then I used the #16 and put some orange with some black dots, with the #3 in the middle of the flower.
I used a flower shaped cookie cutter and put four flowers around the sides of the cake and outlined and filled them with four different colors.
I used a #352 tip and added some green leaves to each flower. The top trim on the cake was piped with a #106 and I added a black dot with #3 tip in the middle. I used tip #21 to make the bottom trim and the put a different color rosette with tip #16. My mom was thrilled with her cake and everyone there enjoyed it. The best part was that I really enjoyed making it.
Return to March 2012 Cake Decorating Contest Submission Form.
Must See Pages for this Month!
Free Newsletter
Sign up for our free newsletter "The Icing on the Cake"