James Bond Cake
by Geri Yost
(Canton, Michigan)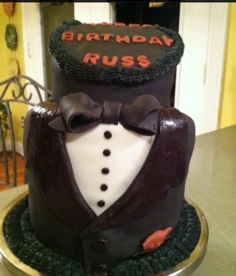 This chocolate topsy turvy cake was made for a man who has a hush hush job. We joke that he is a spy. He turned 44 so I incorporated that on the playing cards and dice, which are hard to see in these pictures.


I baked then buttercreamed the layers then carved them to create the topsy turvy effect. There were four layers in each tier so it was pretty heavy. I supported it between every two layers to keep it from smashing beneath the cake/fondant weight.
This was my first attempt at doing lapels. I folded newspaper to replicate a jacket front and trimmed it to resemble lapels. I then flattened out the newspaper and using a pizza cutter, I rough cut the fondant.
I covered the cakes with one layer of white fondant for the shirt, then again with the black. (That was tricky so I had my husband help!)
I folded back the lapels then with scissors did the notches. I painted the lapels with the Wilton gel paint to make them look like a tuxedo. Both tiers are tuxes.
The poker chips, playing cards and dice are all gumpaste. I wasn't happy with where the two tiers joined so I tinted the leftover buttercream and billowed a layer. It is still one of my favorite cakes!
Must See Pages for this Month!
Free Newsletter
Sign up for our free newsletter "The Icing on the Cake"