John Deere Cake
by Arlene
(Calgary)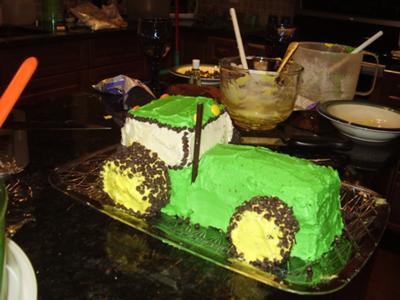 John Deere Cake
For this John Deere cake, I made 2 cakes in loaf pans to make the main parts of the cake and cut them to make the right shape. I used cupcakes for the wheels, small ones for the front and larger ones for the back.


I didn't want to make black icing so I used mini chocolate chips to outline the windows on the cab. I also iced the cupcakes in yellow and then rolled them in chocolate chips for the tires.
I used a long skinny chocolate stick for the smoke stack. I used Smarties for the lights on the cab. I got my ideas from this site, it's awesome!
I had promised my 3 year old a tractor cake and the person who normally makes the birthday cakes for us was too busy so Mommy had to step up. It was so fun!! Now I make all the cakes for my kids!
Join in and write your own page! It's easy to do. How? Simply click here to return to Kids Birthday Cakes .
Must See Pages for this Month!
Free Newsletter
Sign up for our free newsletter "The Icing on the Cake"