Justice League Characters Cake
Easy directions for making a Justice League characters birthday cake:
Bake a sheet cake the size that you need. Cut a 1/8 inch deep line down the center of the cake lengthwise. On the side of the cake that you will be putting your characters on, cut the cake out from the 1/8 inch cut slating it up towards the top edge.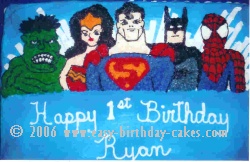 Now ice the cake in white icing and let it set and dry about 20 minutes.
Related Cakes
Round the top edge of the cake. Using a blue food color spray (also known as color mist) spray the top and the sides of the cake.
Using white icing and basketweave tip, size #45, make ines for the background starting at your 1/8 inch cut and angling out towards the top. With an icing filled bag, draw Superman in the center, Wonder Girl and Hulk on one side and Batman and Spiderman on the other side.

Use star tip, size #14 to fill in all of the areas of the characters with the proper colors for each. Use black icing and round tip, size #3 to do all of the outline work on all of the characters.

Use white icing and star tip, size #18 to make a shell border at the bottom of the sides of the cake.

Change the tip to a round tip size #5 and write the birthday message on the bottom half of the cake top under the Justice League Characters.
Free Newsletter
Sign up for our free newsletter "The Icing on the Cake"