How to Make Kids Cakes Like This Hulk Cake
Easy instructions for making kids cakes like this Hulk Cake:
Bake a sheet cake the size that you will need. With an icing filled bag and round tip, draw Hulk's head shape on the top of the cake.
Be sure to draw the facial features on the face. Then cut out the cake shape.
Use white icing and star tip, size #18 and fill in the eyes and the teeth.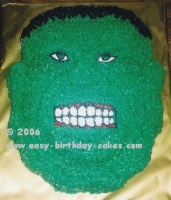 Make a small amount of blue icing and using star tip, size #18, fill in the pupils on the eyes.
Related Cakes
Next, make a small amount of red icing and fill in the small areas above the teeth using the same size star tip #18.
Cover the remaining area of the cake with green icing.
Next, put a second layer of green icing to form eyebrows and nose and around the mouth to form the lips (refer to the above picture).
Make black icing and using round tip, size #5, outline the eyes and the pupils. Then outline the teeth and gum areas.
Free Newsletter
Sign up for our free newsletter "The Icing on the Cake"