How to Make a Luau Cake
Easy instructions for making this luau cake:
Bake a sheet cake the size that you need. Ice the cake with white icing using a cake spatula to make sure that the surface is smooth.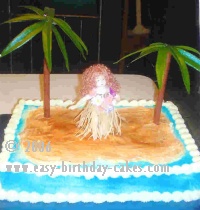 Related Cakes
Using blue food color spray (also known as color mist), spray the sides and the top edge of the cake. Let the icing dry.
Next, make a light brown icing and smooth this on the top of the cake just overlapping the blue on the cake top.
Use star tip, size #18 and white icing and make a shell border around the top edge of the cake and the bottom edge of the sides of the cake.
I purchased a small china doll with a wire stand for a couple of dollars at a craft shop. I removed the clothes and attached a strip of fabric around her top and pieces of raffia around her waist for her grass skirt.
Little silk flowers are attached around her waist for her lea.
Insert the stand in the cake and place the doll in the stand.
To make the trees, I used long thin leaves cut from a silk plant and brown floral tape around two large sticks. First I attached the cut leaves to the top of the stick. Next, I wrapped the sticks with the brown floral tape.
I then inserted them on each side of the hula girl on the top of the luau birthday cake.
Free Newsletter
Sign up for our free newsletter "The Icing on the Cake"