How to Make a Mickey Mouse Birthday Cake
Easy instructions for making this Mickey Mouse birthday cake:
Bake a sheet cake the size that you need. With an icing filled bag, and round tip, size #5, draw baby Mickey on the cake top.
Cut the cake away from the shape. make a black icing and use the round tip, size #5 and outline the entire baby Mickey.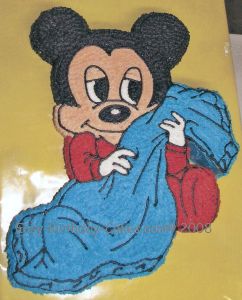 Change the tip to the star tip, size #16 and fill in the eyes, nose and head areas that are black.
Related Cakes
You will continue to use the star tip, size #16 to fill in the rest of Mickey.
With white icing, fill in the rest of the eyes and the hands.
Now make a flesh colored icing and fill in Mickey's face and eye lids.
Use red icing for the pajamas and blue icing for his blanket.
The message can be written on the board with a red icing and round tip, size #5.
See another
Mickey Mouse Cake
which is just Mickey's face or these
Mickey Mouse Cakes
that are a full size adult Mickey and some cheese.
Free Newsletter
Sign up for our free newsletter "The Icing on the Cake"
PopShops™ affiliate stores