Mickey Mouse Topsy Turvy
by Lumyra Mitchell
(Detroit, MI)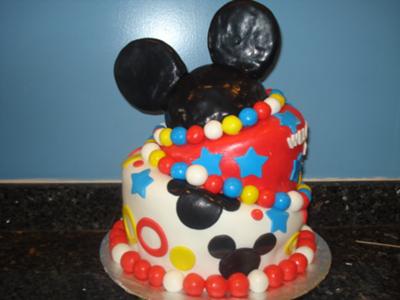 This cake was a 8" and a 10". The top tier was red velvet and the bottom tier was yellow. You have to bake 3 layers of each cake for the height.



Related Cakes

Stack the cake and put icing in between each layer, then put in the freezer 40 minutes to make it easier to carve. Carve the cake on an angle. Frost the cake and cover with fondant....center it... make sure you put enough dowels to support the weight of the top tier.
For the head I used rice crispy treats for the dome and round styrafoam covered in fondant for the ears
Must See Pages for this Month!
Free Newsletter
Sign up for our free newsletter "The Icing on the Cake"