My Daughter Had a Hard Time Turning Forty
by William
(Peshtigo, WI USA)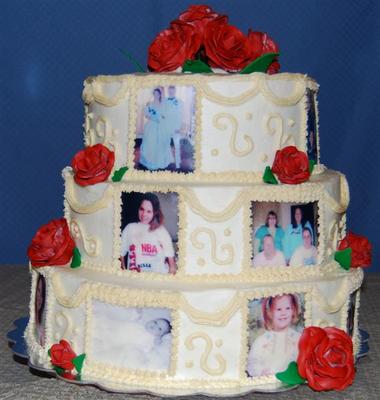 My Daughter was having a hard time turning 40 this year. She did not want anything with numbers or anything black. I decided to show her how much she grew and what she had to be proud of.I showed her in the most tasteful why I could. She really loved what I did.


The cake is 2x12" rounds, 2x10" rounds, and 2x8" round stacked on top of each other.
They are all white cakes tarted and filled with white chocolate ganache. They all have a cardboard plate and dowels in between them.
The pictures are of course edible. The flowers are also made of edible gum paste.
The designs between the pictures are all free hand piping. The frosting is a Italian butter cream. She does not like the texture of fondant so the whole cake is butter cream.
I really enjoyed making this cake. It meant a lot to my Daughter and that is what it is all about.
Must See Pages for this Month!
Free Newsletter
Sign up for our free newsletter "The Icing on the Cake"