Nikon Cake
by Mildred Delgado
(Milledgeville Georgia)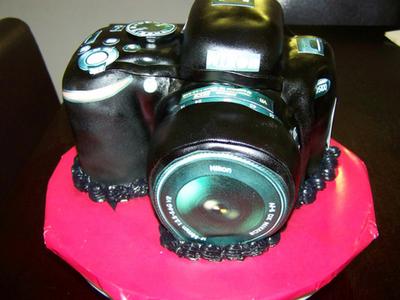 For this cake I used a 9 X13 X3 cake pan. This is a yellow cake with cookies and cream filling. My husband carved the cake into a camera shape. He made a template out of paper using the measurements and blew them up to make the desired size.


Use a dowel for support. I covered the cake in butter cream and then I fondant it. This was an act of love. It was extremely difficult for me to get the fondant to work on all of those curved places.
I used already black color fondant, this was a big mistake. For some reason it was separating, crumbling, oh My God ripping up, the consistency of the fondant changed. Not the same that I have been using with normal white fondant and then airbrushing.
I covered the back of the camera then the middle and the last was the lent. After 2 hours of pure torture working with that fondant, I covered completely.
I resized and printed all of the buttons and decals that the camera actually has on. I made the lent upper part by pressing with a tooth pick one by one giving the lent look.
Must See Pages for this Month!
Free Newsletter
Sign up for our free newsletter "The Icing on the Cake"