One Foot in the Grave Cake
by Rebecca Carlsen
(South Africa)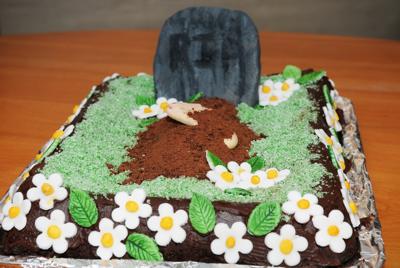 One Foot in the Grave Cake
For my 40th birthday I decided to make a "one foot in the grave" cake. I made a large rectangular chocolate brownie cake with pistachio nuts and chunks of 3 colors of chocolate. (I baked it in a roasting pan).


This made a very firm cake which held the heavy marzipan gravestone well. I iced the entire cake with chocolate ganache (dark chocolate, cream & butter). I made some marzipan (using hazelnuts as well as almonds and some grated orange and lemon rind) and made a sausage shape for the mound in front of the gravestone which I also covered with ganache.
I then covered the mound with Milo (a malted chocolate drink powder similar to Ovaltine – it looks just like soil) but you could use chocolate biscuit crumbs or crumbled Cadbury Flake. I made a foot from fondant, using a cocktail stick to mark out the nails, then painted it with food coloring mixed with alcohol in a skin tone with red for the nails.
I place this on the grave with some more "soil" over it. I colored some dessicated coconut green for the grass and sprinkled it around the grave. I made 40 daisies from fondant icing (sugarpaste) as well as some leaves, using a leaf cutter, and placed them on the cake.
I shaped the gravestone from marzipan, then painted both sides with grey food coloring, using a darker grey to paint R.I.P.
I pushed 3 kebab sticks through the gravestone and into the cake to hold it up.
Join in and write your own page! It's easy to do. How? Simply click here to return to Adult Birthday Cakes.
Must See Pages for this Month!
Free Newsletter
Sign up for our free newsletter "The Icing on the Cake"