Piano Cake
by Kelly
(Van Buren, Arkansas USA)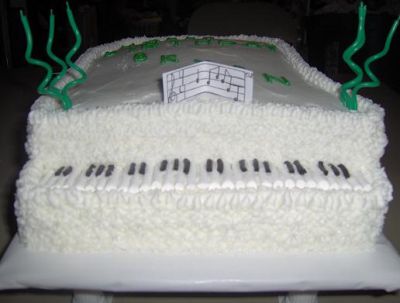 This piano cake is a surprise for a cousin....
I made 2 - 9"x 13" spice cakes. I used Betty Crocker boxed cake mixes and baked according to package directions.
I let them cool completely. Then I drew a pattern on paper to look like a grand piano. I cut both cakes the same. I iced between the layers with buttercream icing, then stacked the 2 layers.
I put a base of buttercream on, it was hard because the cake kept crumbling, so I left the top of the piano smooth and used a star tip and went around the sides and covered it completely.
Then I used a small round tip and colored some icing green and wrote Happy Birthday Bryan on top.
I stuck 6 spiral green candles to represent candelabras, 3 on each side of the piano.
I used the same tip and green icing to make music notes all around the side of the cake as well.
I used candy cigarettes for the white notes and black licorice for the black notes. I broke the candy to fit and cut the licorice.
I also used a small piece of card stock and drew music and folded down the middle and stuck on top of the piano.
Must See Pages for this Month!
Free Newsletter
Sign up for our free newsletter "The Icing on the Cake"