Record Cake - Super Easy and Fun
Easy d
irections for making this Record cake:
Bake a 10" or 12" round cake. You will use the round tip# 7 and black icing and draw the circle in the center of the record, and then the bigger circle for the record label.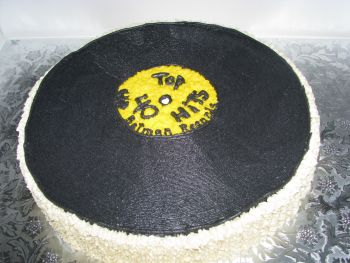 Related Cakes
With your cake spatula ice the black part of the record making sure it is nice and smooth. To make the grooves in the record I used a new small comb that I boiled for a few minutes. Put your cake on a cake turntable. Hold the comb over the black area and turn the cake the whole way around. This will make your grooves.
Now outline along the outer edge of the label and the outer edge of the record in black icing. The label and message can be done in any color to fit the birthday person.
This cake was for a man's 40th birthday who happened to be a batman fan, so the label was filled in with yellow icing. The writing was done in black, Top 40 Hits and along the edge a small batman symbol and Batman Records.
Finally fill in the sides of the cake with white or ivory icing.
Free Newsletter
Sign up for our free newsletter "The Icing on the Cake"