How to Make this Baby Sheet Cake
Easy instructions for making this cake:
Bake a sheet cake the size that you need. Divide the top of the cake into twelve squares using an icing filled bag and round tip size #5.
Use your choice of colored icing, just make sure you don't use the same color next to each other.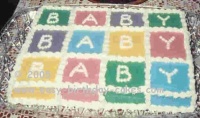 Related Cakes
Ice the center squares first smoothing the icing on each square with a small icing spatula.
With white icing and star tip #18, do a shell border on lines between the blocks doing the sides also. Finally, do the shell border around the bottom and the top of the cake as shown in the above picture.


Free Newsletter
Sign up for our free newsletter "The Icing on the Cake"