Snowman Cake From a Picture
by Farah Khan
(Abqaiq, Saudi Arabia)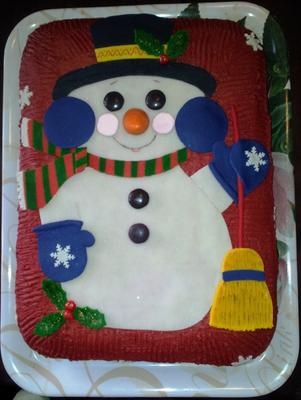 I made this for a friend's Christmas Party last December. She showed me a picture of this snowman in a magazine, and asked me if I could make it on a cake. She was really surprised to see that it was exactly like the picture in the magazine.


It was a vanilla butter cake with raspberry filling. My basic cake recipe was:
16 oz. plain flour
16 oz. unsalted butter
16 oz. sugar
8 eggs
8 level teaspoon baking powder
4 tablespoon sour cream
2 teaspoons vanilla essence
I baked a rectangle cake using a 9"x 13" pan. I made the filling with 1 cup raspberries, 3/4 cup sugar and 1/2 cup water. I cooked these ingredients and when the raspberries became soft, and the sugar melted. I mashed the raspberries a little and cooked till the sauce became thick and spreadable.
I made my Butter Cream icing with unsalted butter, icing sugar, a little meringue powder, vanilla and a few drops raspberry essence.
I mixed some whipped cream to my butter cream icing (I think that Raspberry & cream taste great together.) I colored the icing red.
First I crumb coated the cake and then I covered it with my red colored icing. I had made the snowman decorations with flower paste a day before, using icing sugar, gelatin, liquid glucose, white vegetable shortening, egg white and gum tragacanth.
In the end I decorated the cake with the snowman decorations. The nose shaped like carrot was made with some orange candy and jelly beans melted and mixed together, the pink cheeks were pink marshmallows cut into two circles, the eyes and the buttons were made by using Galaxy Chocolate buttons and I finished with some glitter on the holly leaves.
Must See Pages for this Month!
Free Newsletter
Sign up for our free newsletter "The Icing on the Cake"