Spongebob Sitting With His Cake
by Sandy Smith
(Par Cornwall UK)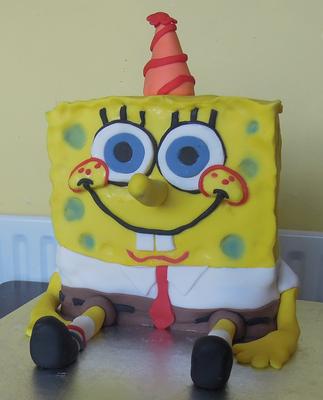 Who lives in a pineapple under the sea?
This cake was made for my daughter's 2nd birthday in April. I made two 8 inch sponge cakes. One was vanilla and one was strawberry. I flavored the strawberry sponge cake with lorann oils. I made a banana creme butter cream icing and again flavored it with the lorann oils.


My recipe for the cake is as follows:
4 eggs
8 ounces of self raising flour, caster sugar and butter. Also, a little lorann oil for your own taste.
The recipe for the butter cream icing is as follows:
250 grams of butter and 500 grams of icing sugar with a little banana creme lorann oil.
I filled the cake and crumb coated it with the butter cream icing. Then I covered it with fondant and all of the fondant details to make it look like Spongebob.
I also made a small vanilla cake for Spongebob's birthday cake that he is holding and that held the birthday candle.
Must See Pages for this Month!
Free Newsletter
Sign up for our free newsletter "The Icing on the Cake"