Texas Hold'em Cake
by Judy
(Coronation, Alberta, Canada)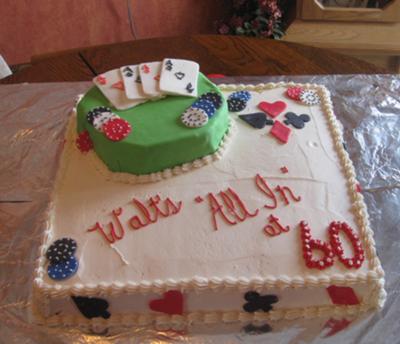 Texas Hold'em Cake
I decorated this cake for our friend's 60th birthday party. He is a huge Texas Hold'em fan.


I made one 8" square and one 16" square carrot cake. This was the equivalent of 3-1/2 9"x13" carrot cake recipes.
I made my own marshmallow fondant (which was a first) and I thought it tasted better than the fondant that I had bought. It was fairly easy to make and to handle. I made the cards, chips and hearts, diamonds, clubs and spades the day before so they had some time to set and were easier to move around.
After the cakes had cooled, I cut the 8" square cake into an octagon shape for the poker table. I iced it with butter cream and then covered it with green fondant to resemble a poker table.
I covered the 16" cake with buttercream icing and then placed the "poker table" onto the upper lefthand corner. I continued to decorate it with the embellishments made the day before.
Finally, I piped "Walt's All In at 60" with red butter cream.
As you can see by the smile on his face, it was a hit and enjoyed by all.
Join in and write your own page! It's easy to do. How? Simply click here to return to Poker Cake.
Must See Pages for this Month!
Free Newsletter
Sign up for our free newsletter "The Icing on the Cake"