The Nutcracker Christmas Cake
by Trinity Wood
(Russellville, AR )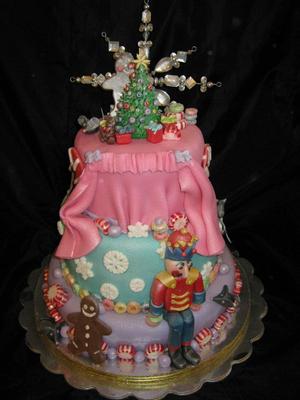 This three-tiered cake was 10", 8", 6" and each tier was covered in fondant. I made a lot of figures and shapes in advance to go on this cake.


The tree was made with a cone of green fondant and snipped at with cuticle scissors (just for cakes of course!) to create the branch effect, then decorated with various sugar ornaments made by hand and molds. The little presents and toys were then added.
The gingerbread men were made with a cookie cutter and decorated.
The nutcracker figure was made while looking at a picture of a nutcracker and piecing together carefully all the parts one by one.
The snowflakes were premade and bought from Luck's. Candies and Froot Loops were also used for decoration. The snowflake was actually a Christmas ornament and was the only thing on the cake that was non-edible.
The theater curtain look on the top tier was made by pleating fondant and affixing it with gum glue, then using lollipop sticks to make the ruffles in the valance.
If ever there was a cake that called for shimmery sparkle spray, this one was it, so I applied it liberally :) I loved making this cake even though it took about 19 hours straight.
Must See Pages for this Month!
Free Newsletter
Sign up for our free newsletter "The Icing on the Cake"