How to Make Theme Cakes Such as This Record Cake
Easy directions for making theme cakes such as this American Idol record cake:
Bake a round cake the size that you need. Draw a circle on parchment paper the size of the cake. Cut it out. Draw another circle in the center the size you want your record label to be. Cut this out.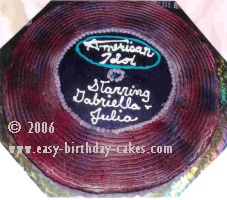 Related Cakes
Lay the circle the size of your cake on the cake. With an icing filled bag and round tip, size #5, mark the label circle onto the cake. Remove the parchment paper. You now have a circle in the center of your cake.
Make black icing and with a cake spatula spread the black icing in the center circle.
Smooth the top of the icing in the center.
Use a decorating comb to make the grooves on the sides and top of the record.
Lay the center round circle of the parchment paper over the black center of the record.
Now you spray the grooved area of the record using red food coloring spray and blue food coloring spray until you have the desired shad that you want.
Make a gray colored icing and use round tip, size #5 to make dots around the black circle. Make a small hole in the center with the same dots.
With white icing and the same size round tip, write American Idol on the top part of the record label and a message on the bottom of the label, whatever you would like it to say.
Now make a small amount of bright blue icing and using the same size round tip, make an oval around the written American Idol.
Free Newsletter
Sign up for our free newsletter "The Icing on the Cake"