Twilight Cake
by Maureen McLean
(Scotland)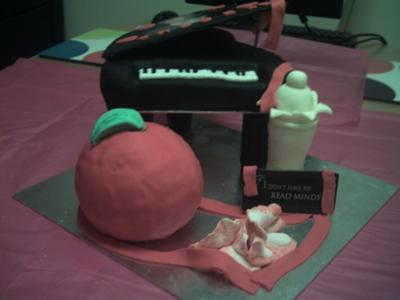 Twilight Cake
To make this Twilight cake, I made separate cakes for each twilight book symbol & the famous piano. I cut out the piano shape with my own template over a rectangle cake, cutting out rectangle over the top sandwich, to make where the keys will go, sandwiched together then covered in butter icing.


I covered the cake with black fondant icing. I used a cake board for the piano lid, covered in black fondant then cut dowel slightly longer to hold lid up. I cut out small rectangles with black and white fondant then stuck them on to make the keys.
I used 3 pillars to hold up the cake. The apple was a sphere cakes tin sandwiching 2 halves together, then cover in red icing, denting in top, made a leave and stalk from icing waited until hard then stuck in.
The chess piece was a jam roll, covered in white icing, then the top was just molded white fondant, dried out then stuck on top.
I Made the flower with a mix of white fondant then just add small amount of red and did not mix too much, then shape into flower.
I re-arranged all cakes on board the draped red fondant to look like ribbon all over. I had fun making this for my daughters 10th Twilight birthday party.
Must See Pages for this Month!
Free Newsletter
Sign up for our free newsletter "The Icing on the Cake"