Victorian Birthday Cake
by Michelle Q
(SF Bay Area CA)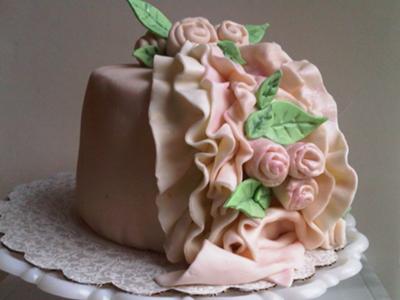 I made this victorian looking birthday cake for my best friend's mom!


All the fondant is home made marshmallow fondant! This is a 6 inch 3 layer cake! I covered the cake in an ivory pink! I rolled out each ruffle approx 15 inches, starting with the outside ruffle and working my way in!
I used vodka and a small brush to attach the edge of the ruffle while scrunching and using the end of the paint brush to make the ruffle!
I then rolled ribbon roses and cut leaves out of fondant! Placed the roses and leaves on the cake, used a hand held mini steamer to shine up and get off the powdered sugar off!
Return to March 2012 Cake Decorating Contest Submission Form.
Must See Pages for this Month!
Free Newsletter
Sign up for our free newsletter "The Icing on the Cake"