Make Western Cakes
Easy instructions for making western cakes:
Bake a large sheet cake or a sheet cake whatever size you will need. Divide the cake into three sections length wise.
Place one section in the center of a cake board. This will be part of the center of the cactus.

Cut the next section in half and place one section on top of the center of the cactus. The other half of the section you will place at the bottom of the cactus crosswise forming the dirt base. See the above picture for reference.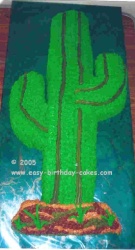 Related Cakes
The last section you will cut in half also. Place it on the sides of the cactus center to form the arms. Again refer to the picture.
Be sure to round off the cactus ends and curve the arms.
Using star tip size #18 and green icing, cover the cactus. make a small amount of darker green icing and use star tip size #18 to pipe lines on the cactus according to the picture.
Cover the dirt base using tan and brown icing and star tip size #18.
Finally pipe grass sprouts on the base using the same size star tip and the green icing you used to cover the cactus.
---
Don't forget the party favors!
These Western Candy Wrappers go perfectly with a western theme party. Kids and adults both love getting personalized candy bars as favors. Personalize them however you would like.


Free Newsletter
Sign up for our free newsletter "The Icing on the Cake"