How to Make this Baptism Cake
Easy directions for making this baptism cake:
Bake a sheet cake the size that you need. Ice the sheet cake with white icing using a cake spatula and making sure the surface is nice and smooth.
Let it set about 15 to 20 minutes.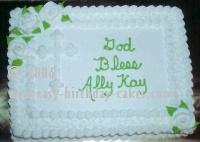 Related Cakes
Mark on the top of the cake with a small ruler 1 ½ inches to 2 ½ inches in from the edge. (It will depend on you cake size – for example, for a full size sheet cake, mark in 2 ½ inches in from the edge. For a ½ sheet cake, mark in 1 ½ inches from the edge.)
With white icing and round tip, size #5, do the lacework on the sides and the top border you marked off.
Using the same white icing and star tip, size #18, make a shell border around the inside edge of the frame, outside edge of the cake and the bottom of the sides of the cake.
Make four large roses using rose tip, size #125 or #126 or #127. Place three roses in the top left hand corner and one rose in the lower right hand corner.
Now with the white icing and star tip, size #18, make a cross in the upper left hand side of the inner rectangle.
Make three large dots with the same star tip at the ends of the cross.
Make green icing and use leaf tip, size #352 and make leaves around all of the roses.
Change the tip to round tip, size #4 or #5 and write the message on the top of the cake.
Sprinkle white edible glitter over the entire cross. Some glitter will fall beside the cross. This is okay, it only adds to the appearance.


Baptism Cakes
If you have made a Baptism cake and you would like to share, please submit your cake here and let us know how you made it! We would love to feature your cake on our site. Please make sure to include a photo of your cake and a description of how you made it, so that we can all share ideas and learn from each other!
See Baptism Cakes That Were Submitted By Others To This Site!
Click below to see other Baptism cakes from other visitors to this page...

Baptismal Cake






To make this Baptismal cake: 1. Bake a 10 x 14" rectangle chocolate moist cake (low fat milk, brown sugar, flour, soda and powder, vanilla and eggs) then …
Free Newsletter
Sign up for our free newsletter "The Icing on the Cake"