Dog Birthday Cake Idea
Easy instructions for this dog birthday cake idea:
Bake a sheet cake the size that you will need for your party.
With an icing filled bag and round tip, size #5, draw the dog on the top of the cake.
Cut the cake away from the dog shape.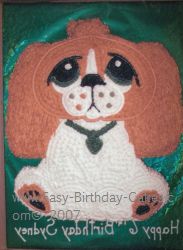 You will use the round tip, size #5 to do all of the outline work and the star tip, size #18 to do all of the fill in work.
Make a light red brown icing.
First outline the face and paws.
Next, with white icing, outline the dogs muzzle and the white areas on his face, the front legs and the back feet.
With black icing, fill in the black part of the eyes and the eyebrows, the nose and black on his paws.
Related Cakes
Change the tip to the round tip and do the line from his nose to the upside down V of his mouth.
Now fill in the area below the black part of his eyes with olive green icing.
Take your red brown icing and make the three dots on each side of his muzzle and fill in the rest of the red brown area on his face, ears and paws.
Use your white icing and fill in the area under the olive green of his eyes and his muzzle.
The necklace and heart shaped tag are filled in with olive green icing.
To finish, fill in the rest of his body with the white icing and make a white dot on the black part of each eye.
Free Newsletter
Sign up for our free newsletter "The Icing on the Cake"