Race Car Birthday Cake
How to make this race car birthday cake:
Bake a sheet cake the size that you need.
With an icing filled bag, and round tip, size #5, draw the car on the cake top. The outline work is done with the round tip, size #5 and the fill in work with the star tip, size #16.
Make a blue icing and outline all the blue areas on the car.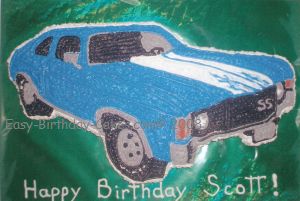 Related Cakes
Do not forget to do the center line and the flames on the white part of the top of the hood.
Now fill in all the blue areas.
Next, make a gray icing and outline all the gray areas.
Fill in the gray areas except the lights on the front.
Make a black icing and outline the black areas and then fill them in.
Fill in the lights with orange icing and the round lights with white icing.
Fill in the middle of the hood with white icing and the sides of the cake also with white icing.
This is a 1968 Chevelle car cake that was made for as a birthday cake.
Share Your Car Cake
If you have made a car cake that you would like to share, please submit your cake here and let us know how you made it! We would love to feature your cake on our site. Please make sure to include a photo of your cake and a description of how you made it, so that we can all share ideas and learn from each other!
See Car Cakes That Were Submitted By Others To This Site!
Click below to see other car birthday cakes from other visitors to this page...

3D Porsche Car Cake






This Porsche car cake is for a church brother's 54th birthday. I baked a 10"x10" and shape it to a car shape. Then covered it with fondant. Home …
34 Ford Coupe Cake






I baked a chocolate cake in a 3D car cake pan. I cut it into a shape of a 34 Ford. I sliced it and filled it with chocolate buttercream. I covered the …
Racing Car Show Cake






This racing car cake is another one of my show cakes. It's a caramel mud cake. I sculpted the car my self and covered the board in fondant. The wheels …
Lana's Dad's Red Car Cake






I bought this pan for this car cake off ebay. It didn't come with instructions, but she wanted it to be red. Her dad has a red corvette. I outlined …
Chap's Chicken Chauffeur Race Car Cake






For this race car cake, I used the 3-D cruiser pan. It takes about 1 and 1/2 prepared cake mixes. With the left over mix I made cupcakes. This cake …
Sports Car Cake






This red Mercedes Benz Sports series cake is made for a friend's husband birthday who has recently bought this car to add on to his car collection. …
Ronald's Car Cake






To make this car cake, I used the cruiser pan and 2 cake mixes. There was a little left over. I baked according to directions. Then let cool completely. …
Hot Rod Car Cake






To make this hot rod car cake, I used a wilton car pan. I baked a carrot cake, although, I should have had at least two extra cups of cake. It didn't …
Blue Car Cake Not rated yet
to make this car cake, I used the crusier cake pan and did as Nancy suggested and added extra cake mix. And with the left over mix I made a few cupcakes. …
Free Newsletter
Sign up for our free newsletter "The Icing on the Cake"