Creative Cakes Such as this Spaceship Cake
Easy instructions for making creative cakes such as this Spaceship cake:
Bake an 8 inch, 6 inch and 4 inch round cake. Place the 8 inch cake on and 8 inch cake circle. Place the 6 inch and 4 inch cake on top of each other and onto the 8 inch cake using icing spread in between them.
I then placed the cake on a stainless steel bowl slightly smaller than the 8 inch cake. This represents the bottom of the space ship.
Ice the entire space ship in pale green icing using star tip, size #16.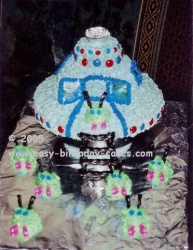 Using the picture as a guideline, place a small square of tin foil on each side of the ship for windows. Using star tip, size #16 and blue icing, outline the windows. Make the doors out of larger pieces of tin foil folded over and over to make squares a little larger than the windows.
Related Cakes
Place at an angle where the door is on the front of the cake in the middle. Outline both doors and opening and the walkway from the door using blue icing and star tip, size #16.
Next place the red and blue candies on the cake using the picture as a guide.
The top of the cake is a foiled cupcake with the top covered in pale green icing using star tip, size #16.
The space people are regular sized marshmallows covered in green icing using star tip, size #16. Using the same size tip, put a dot of blue icing on for the eyes. The feet are done with red icing and same size tip with a strip about ½ inch long with another strip right on top of the first. The antennae are cut pieces of black licorice stuck in the top of the head.
The ladder is black licorice glued together with icing. Place on of the space people on the cake at the top of the ladder.
Free Newsletter
Sign up for our free newsletter "The Icing on the Cake"