Cupcake Number 7 Birthday Cake
Simple d

irections for making this cupcake number 7 birthday cake: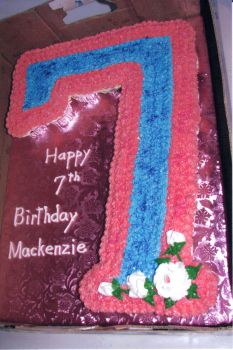 Bake as many cupcakes as you need. Put a thin coat of icing (the color you want) on the top of the cupcakes. Place them on the covered cake board in the shape of the #7.
Related Cakes
Make a pink icing and using tip #18 do three rows starting at the top edge working your way towards the middle. Now make a blue icing and fill in the middle area,using the same size tip.
I sprinkle blue edible glitter on the blue area and a pink edible glitter on the pink area. I made a few white roses using tip #125, and white icing.
The leaves were made using tip#352 and green icing. Use white icing and tip #5.
Free Newsletter
Sign up for our free newsletter "The Icing on the Cake"