How to Make an Easter Bunny Cake
Easy instructions for making this Easter bunny cake:
Bake a bunny cake in the bunny cake pan. Also bake a twelve in round cake, only one layer.
With white buttercream icing, frost the top of the round cake smoothing it with a cake spatula.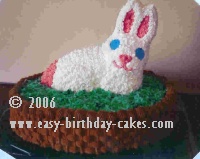 Related Cakes
Make a brown colored icing for the sides of the cake. You are going to use the basketweave tip, size #48 and round tip, size #5. Do the basketweave as shown in the picture. Make sure your starting point ends up being the back part of your cake.
To do this, first make a vertical line down the side of your cake with the round tip. Then use your basketweave tip to squeeze out short horizontal stripes of icing across the vertical strip starting at the top and making sure that the spaces between each one is the width of your tip.
Next, make another vertical line with your round tip, over the ends of your previous horizontal stripes. You start your next set of horizontal stripes by burying the tip under the first vertical strip.
Repeat vertical lines and your horizontal lines until you achieve the basketweave look. (Note: On this cake, I used round tip, size #5 for all vertical lines and basketweave tip, size #48 for all horizontal lines. However, the horizontal and vertical lines can all be made with the basketweave tip if you wish.
Next, change your tip to star tip, size #18 and make a shell border around the top edge of the cake.
The next step is to place your Easter bunny cake on top of the round cake in the center. I always push a couple of cake dowel rods through the Easter bunny cake into the round cake to make sure it stays in place.
Make a pink colored icing and use star tip, size #18 and fill inside of the bunny's ears, nose and tail.
Make a small amount of sky blue colored icing and using the same size star tip #18, do the bunny's eyes.
Use white icing and star tip, size #18 to cover the rest of the Easter bunny cake.
Using the pink icing and round tip, size #5, make the mouth of the bunny starting at the nose. (Refer to the picture.)
To make the grass around the bunny, place coconut in a baggie and use green liquid food coloring, (a few drops at a time) and seal the baggie. Squeeze the bag until all of the coconut is green. Sprinkle the green coconut around the Easter bunny cake.
You can also make the Easter bunny cake all by itself and place it on a board or plate with green coconut sprinkled around the Easter bunny cake.
See more
Easter Cakes
.
Free Newsletter
Sign up for our free newsletter "The Icing on the Cake"