How to Make First Communion Cakes
Easy directions for making these First Communion Cakes:
This First Communion Cake goes very well with the Cross Cake, but if you do not need this much cake, you can make just one of them instead of both.
The first cake is a sheet cake. Bake a sheet cake the size that you need. Ice the sheet cake with white icing using a cake spatula and making sure the surface is smooth.
Let it set about 15-20 minutes.
Mark off 1 ½" or 2 ½" with a ruler along the top edge of the cake. On a ½ sheet cake it is 1 ½" and on a full sheet cake, it is 2 ½ inches.
With white icing and round tip, size #5, do the lace work on the sides of the cake and the top edge up to your markings on the top of the cake.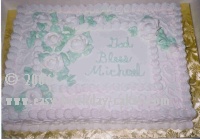 Related Cakes
Now change your tip to a star tip, size #18 and make a shell border around the inside edge and outside edge of the top of the cake.
Also make the shell border around the bottom edges of the sides.
Make roses with a large rose tip and place them on the left side of the inside rectangle and on the right upper corner.
Make a light green colored icing and using leaf tip, size #352 make the leaves around the roses.
Change the tip to a round tip, size #5 and write "God Bless" message on the right side of the rectangle.
Here is another
First Communion Cake
with pictures and instructions of how to make it.
Here are some
First Communion candy wrappers
that would be perfect as First Communion party favors.
Free Newsletter
Sign up for our free newsletter "The Icing on the Cake"