How To Make a Flower Cake

Easy directions for making this flower cake:
Bake a sheet cake the size that you need. With an icing filled bag and round tip, size #5, draw a butterfly and the flower on the top of the cake.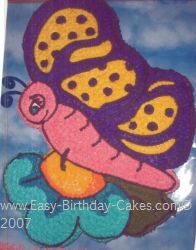 Cut the cake away from the butterfly and flower shape. You wil use the star tip, size #18 to do all of the fill in work and the round tip, size #7 to do all of the outline work.
With black icing outline the entire butterfly and flower. With purple icing , fill in the dots and the purple areas on the wings.
Next, fill in the yellow ares of the wings. fill in the eye with sky blue and white icing.
Now fill in the body with pink icing.
Related Cakes
Next do the flower center with golden yellow and bright yellow.
I then sprinkled the center of the flower with yellow edible glitter.
Fill in the shaded areas of the petal with royal blue and the rest of the petals with sky blue.
Using your black icing and the round tip, size #4 or #5, make the eyelashes on the butterfly.
This is a really colorful butterfly and flower birthday cake.
Free Newsletter
Sign up for our free newsletter "The Icing on the Cake"