How to Make this Football Cake
Easy instructions for making this football cake designed to look like a football field:
Bake a sheet cake the size that you need.
Ice the top with green icing and an icing spatula. With white icing and round tip, size #5, pipe the football field on the top including the yard numbers.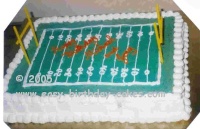 Related Cakes
The goal posts are made with three yellow straws glued together as shown in the picture.
Write the message sideways across the field using orange icing and round tip, size #5. Pipe the shell border on the top and bottom edge uing star tip, size #18.
If you need party favors for your party, try these football candy wrappers . They go great with this cake!
Share Your Football Cakes
If you have made a Football cake for a birthday or other occasion that you would like to share, please submit your cake here and let us know how you made it! We would love to feature your cake on our site. Please make sure to include a photo of your cake and a description of how you made it, so that we can all share ideas and learn from each other!
See Football Cakes That Were Submitted By Others To This Site!
Click below to see other Football birthday cakes from other visitors to this page...

Chelsea Football Birthday Cake Not rated yet
The Cake is a chocolate 7 inch square cake covered in green fondant icing. The footballer figure is made from fondant, it took me three attempts to …
Free Newsletter
Sign up for our free newsletter "The Icing on the Cake"