How to Make a Golf Cake
Easy instructions for making a golf cake:
Bake an eight inch two layer cake. Ice it in white buttercream icing. With white icing and star tip size #18, make a shell border around the top and bottom edge of the sides of the cake.
With green icing and the same size star tip, outline the golf green on the top of the cake. Fill in the green by sprinkling green sugar on the golf green. Green sugar is made by putting a few tablespoons of sugar in a ziplock bag and adding a few drops of green food coloring. Then seal the bag and squeeze it until the sugar turns green.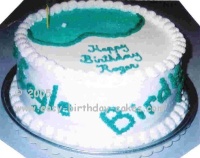 Related Cakes
Make the flag in hole with a toothpick an piece of colored paper cut in a triangle shape glued to the top.
The golf ball is a large white icing dot made with round tip #5. Just squeeze the icing bag, but do not lift the tip up.
With green icing and star tip size #18, write at different angles on the sides of the cake different golf phrases such as Hole in One, Birdie, Eagle, Fore etc.
I pressed miniature golf clubs (found at a craft store) around the phrases on the side of the cake.
Finally using green icing and round tip #5, write your message on the top of the cake.
---
Don't forget the party favors!
Here are some Golf Candy Wrappers that would go great with this cake. They can be personalized to say whatever you would like. Everyone loves chocolate and your guests will love getting these.
Share Your Golf Cake!
If you have made a golf themed cake that you would like to share, please submit your cake here and let us know how you made it! We would love to feature your cake on our site. Please make sure to include a photo of your cake and a description of how you made it, so that we can all share ideas and learn from each other!
See Golf Cakes That Were Submitted By Others To This Site!
Click below to see other golf themed cakes from other visitors to this page...

Golfer Cake






This golfer cake was make by carving the shape of the shoe out of cake, and covering it with fondant. All of the decorations were made with either gumpaste …
Cy's Golf Cart Cake






I made this golf cart cake with a wilton 3D car pan and on the wilton site they give you instructions. I did mine a little different. I made the tires …
Golf Birthday Cake






For this golf birthday cake, I Baked two square cakes, one size 10" & the other size 6". They were Japanese strawberry sponge cheesecakes, which I sandwiched …
Old Golfer Cake






I used a boxed cake mix, cooked according to directions in a 9" x 13" pan. I used buttercream icing and colored some brown & green and blue thinned …
Free Newsletter
Sign up for our free newsletter "The Icing on the Cake"