Handbag and Shoes Tiger Print Cake
by Maureen McLean
(Scotland)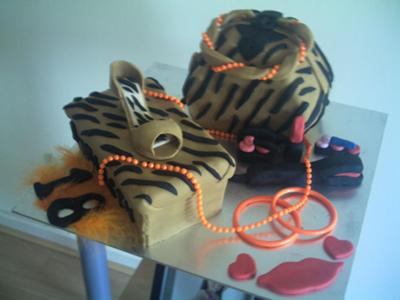 Handbag and Shoes Tiger Print Cake
I made 2 square cakes, molded them to bag shape, sandwiched together with butter cream. I covered in colored fondant, then cut out random shapes to make the animal print.


Next, I got beads and wrapped around 2 strips of fondant to make the handles, wait until hard then stuck them on to bag.
I made a square cake cut in half, for the shoe box shape, butter creamed all over cake, then covered in fondant to match bag, just cut out rectangle shape fondant, inch more than the top of box shape cut 1 inch slits diagonally at 4 corners so when draped over top, they fold over giving you a lid effect.
I used a template for the shoe, let that dry for about 5 days, so it can take own weight on heel, cover it in matching animal print, then place on top of box for finishing touches.
I made this for a friends daughters 18th, you can use any colors.
Must See Pages for this Month!
Free Newsletter
Sign up for our free newsletter "The Icing on the Cake"