Shoes Theme Birthday Cake
Easy instructions for making a theme birthday cake:
This theme birthday cake is all about shoes.
Make a sheet cake the size that you need. Ice it in white buttercream icing.
On the top of the cake, mark in from the edge 1 and 1/2 to 2 inches all the way around. With a knife lightly mark the lines connecting to each other until you have a rectangle.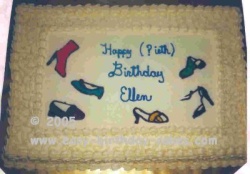 Do the lace work on the sides and the top edge (outside of the rectangle that you just made) of the cake. To do the lace work, use white icing and a round tip, size #4 or #5. Just make squiggle lines over the space you are to fill in. Refer to the above picture.
Related Cakes
Using the picture as a reference, use star tip, size #16 and various different colors of icing to make the shoes.
Write your message in colored icing and round tip, size #5.
Share Your Shoe Cake
If you have made a shoe cake that you would like to share, please submit your cake here and let us know how you made it! We would love to feature your cake on our site. Please make sure to include a photo of your cake and a description of how you made it, so that we can all share ideas and learn from each other!
See Shoe Cakes That Were Submitted By Others To This Site!
Click below to see other shoe theme birthday cakes from other visitors to this page...

Handbag and Shoes Tiger Print Cake






I made 2 square cakes, molded them to bag shape, sandwiched together with butter cream. I covered in colored fondant, then cut out random shapes to make …
Hermes Bag and Shoe Cake






To make this Hermes bag and shoe cake, I have baked a 10" square cake and trim into a bag shape. A thin layer of buttercream over the cake before covering …
Karen's Book and Shoe Cake






For this book and shoe cake, I made the shoe out of gum paste and let dry. I attached the pieces of the shoe with royal icing. The cake was made in …
Free Newsletter
Sign up for our free newsletter "The Icing on the Cake"