How To Make a Hat Cake
Easy directions for making a hat cake:
Bake a round cake the size that you need.
You will use an oven proof bowl or half of a ball pan to bake the dome part of the hat.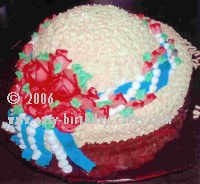 Related Cakes
Ice the top of the round cake using a cake spatula.
Now place the dome cake on top of the round cake putting it towards the back making sure you leave enough cake in the back to support the folowers you will later apply.
If you have to level off the bottom part of the dome cake before you place it on the round cake, cut off whatever you need to make it level before placing it.
Cover the entire cake using a light tan icing and star tip, size #18.
Next make a sky blue colored icing and use basket weave tip, size #2B to make a criss cross hat band.
Also make blue ribbons going from the hat band down the back sides and onto the cake board.
Now, using white icing and round tip, size #10, make pearl strands around the hat band.
Also, make pearl strands between the ribbons on the back of the hat.
Make five roses using a rose tip and a light red and a dark red icing. To do this, use the large rose tip, size #125 and an icing filled bag.
Place a strip of dark red icing in the shorter end of the rose tip and up that inside part of the bag. I use a regular table knife to do this.
Now fill the bag with a light red icing. Squeeze enough icing out until you get the dark red edge coming out.
Place three roses on the back edge of the hat brim.
Now place two roses between the three roses.
Make a rose bud at the top of the rose pyramid using the same rose tip.
Now scatter rosebuds along the hat band.
Make a light green icing and use leaf tip, size #352 and make leaves by all of your roses and buds on the hat cake.
Don't miss these other great pages!
Share Your Hat Cake
If you have made a hat cake that you would like to share, please submit your cake here and let us know how you made it! We would love to feature your cake on our site. Please make sure to include a photo of your cake and a description of how you made it, so that we can all share ideas and learn from each other!
See Hat Cakes That Were Submitted By Others To This Site!
Click below to see other hat birthday cakes from other visitors to this page...

Red Hat Cake






To make this red hat cake, I baked a white cake mix and put the whole eggs in it to make it a little heavier. I then put it into a 10 inch and 6 inch pan. …
Granny's Hat Cake






To make this hat cake, I used an eight inch and one ten inch pan. I filled the eight inch a little higher to get a rounded top. I frosted all with butter …
Free Newsletter
Sign up for our free newsletter "The Icing on the Cake"