How to Make Horse Cakes
Easy directions for making horse cakes: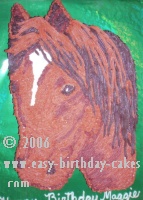 Make a sheet cake the size that you need.
With an icing filled bag and round tip, size #5, draw the horse on the cake top.
Related Cakes
Cut the cake away from the horse shape. You will use the star tip, size #18 for all of the fill in work and the round tip, size #5 for the white highlight dot on the eye.
With the white icing fill in the white area on the horses forehead.
Next , make three different shades of brown. One dark brown, one a medium red brown and one a light red brown.
With the dark brown icing fill in the nostrils and the eyes. Use your medium red brown and fill in the shaded areas on his head and neck.
Now fill in the rest of his head and neck with the light red brown icing. Take a regular eating fork and draw it through the shaded areas and the light red areas to blend it.
Now use your dark brown icing and fill in the same area making your stars the same as on the rest of the cake.
This will be the base for the long mane hairs using the same star tip, start at the top of the main and draw the lines down overlapping some of them onto the forehead and neck.
Now use your light red brown icing and do the same as in the picture on top of the dark brown hairs. This gives your cake a nice dimensional effect because the man is higher than the rest of the cake.
Now with white icing and round tip, size #5, make the highlight dot on his eye and write your message on your cake board.
Free Newsletter
Sign up for our free newsletter "The Icing on the Cake"