Kids Basketball Cake - An Easy Cake to Make
Directions for making this kids basketball cake:
Bake a round cake the size that you need.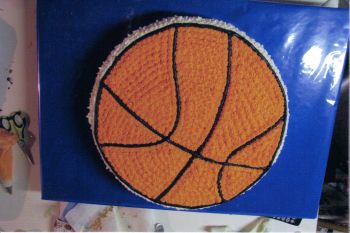 Related Cakes
With an icing filled bag and the round tip #5 draw the lines of the basketball on the round cake top.
Use black icing and tip # 10 and do the curved lines of the basketball.
Make an orange colored icing and use star tip # 18 and fill in the rest of the ball.
Fill in the sides of the cake with an ivory or white icing and the same size star tip.
Free Newsletter
Sign up for our free newsletter "The Icing on the Cake"