Make This Luau Birthday Cake
Easy to follow directions for making this luau birthday cake:
Bake a sheet cake the size that you need.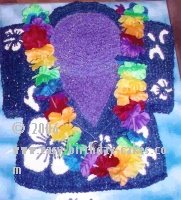 With an icing filled bag and round tip, size #5, draw the shirt on the top of the cake. Cut the cake from around the shape.
You will be using the star tip, size #5 for all of the fill in work and the round tip, size #5 for all of the outline work.
Make a dark pink icing and fill in the neck area of the shirt.



Related Cakes
With white icing fill in all the design areas.
Now make red icing and fill in the rest of the cake.
Change your tip to the round tip and outline the inside and outside of the collar.
With black icing and the star tip, make two buttons on the front of the Hawaiian shirt.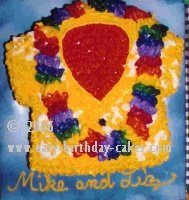 Let it dry completely, then place a silk lei on the cake. This is the blue Hawaiian shirt. The yellow Hawaiian shirt below has a lei made out of icing. You can create your luau birthday cake whichever way you prefer.
Here is another Luau Cake Design.
These cakes make great birthday cakes, but they were actually made as luau wedding cakes. There was the red one with the groom's name on the cake board, then the blue one with the bride's name on the cake board and the small yellow one with both their names to save, freeze and eat on their first anniversary.
Free Newsletter
Sign up for our free newsletter "The Icing on the Cake"