Picture of a Birthday Cake - Orange Zest Cake
Picture of a birthday cake with instructions:
Bake a round two layer cake the size that you will need according to the number of party guests you will have.
Ice the cake in white icing making sure it is nice and smooth.
Let it set at least a half hour. With your fingers and the center heel of the palm of your hand, round the edges of the cake top.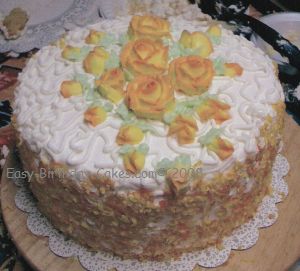 Related Cakes
Do the lacework on the cake top using the round tip, size #5.
Make your roses using a large rose tip, size #125 and an icing bag.
Place a strip of orange icing in the shorter end of the rose tip and up that inside part of the bag.
I use a regular table knife to do this. Now fill the bag with a yellow icing.
Squeeze enough icing out until you get the orange edge coming out.
Place the roses on the center top of the cake. Use a light green icing and the leaf tip #352 to do the leaves. Press orange zest on the sides of the cake.
Free Newsletter
Sign up for our free newsletter "The Icing on the Cake"